About Stucki
A Trusted Partner for over 100 Years
About The A. Stucki Company
Focused on the dynamic control of freight cars
A. Stucki Company was established in 1911 by Arnold Stucki, a talented Swiss engineer who had moved to America shortly before the turn of the century, thrived in the rail industry and authored "Steel Car Design," a landmark reference guide. In the company's early days, the side bearings Mr. Stucki designed to stabilize rail cars became an industry standard. By the 1950s, almost all North American railroads had converted to Stucki roller side bearings. Mr. Stucki's son-in-law and his descendants led the company for more than 40 years, investing in better working conditions for employees and relying on strong customer relationships to outlast several downturns.
In more recent years, Stucki has focused on growth and diversification, acquiring accomplished suppliers of machined components, springs, bearings and other products, as well as critical remanufacturing and logistics services. The expansion program has broadened Stucki's product and service capabilities and added tremendous value to long-term customers within and beyond the rail industry. Today, the entrepreneurial spirit and engineering prowess of Arnold Stucki live on in the company that bears his name. A. Stucki Company is poised for continued growth as the 21st Century rolls on.
THE STUCKI FAMILY OF COMPANIES
BRINGING BUSINESSES TOGETHER
A. Stucki Company became a SCI Rail platform in October 2015 and has continued to strengthen its product offering and market position with several strategic acquisitions. Today, SCI Rail is a leading independent supplier of highly-engineered parts and services for railroad rolling stock. The company operates 23 manufacturing facilities throughout the United States, Mexico and Brazil.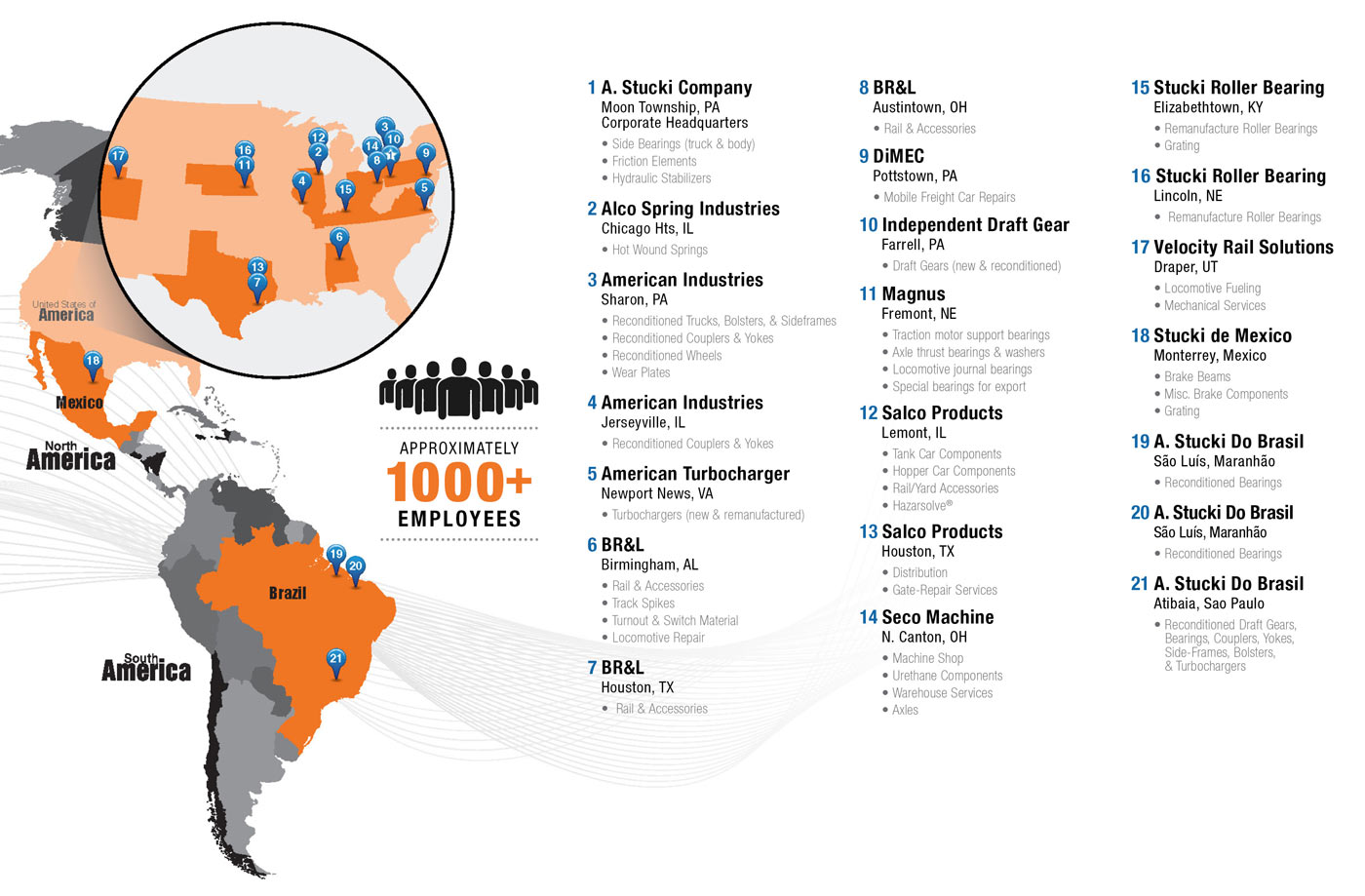 Building Satisfaction : Call Us Today 412.424.0560
Our highest priority is to provide outstanding customer service and superior product quality. We strive to create long term successful relationships with all of our customers.
INNOVATIVE SOLUTIONS